Redefine Customer Service and Propel

Employee Experience with ServiceNow and Evoke
As a Specialist ServiceNow partner,
we assist enterprises in creating
structured services by stepping up
their IT operations.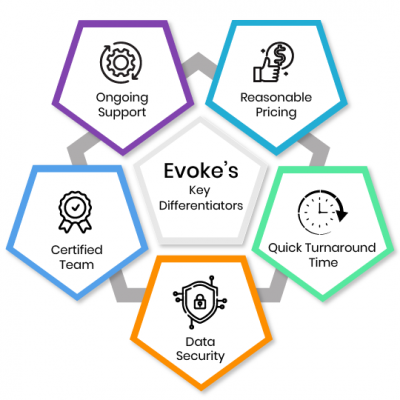 Our certified ServiceNow consultants support clients spanning diverse industries by enhancing customer experience and achieving operational excellence.
Evoke leverages the ServiceNow platform to help businesses replace their unstructured processes with automated, connected workflows and custom solutions.
ServiceNow Products

We Implement
ITSM
We automate workflows and improve IT productivity through ServiceNow IT Service Management.
ITOM
We enable enterprises to achieve complete visibility into business services using ServiceNow IT Operations Management.
GRC
We improve business resilience by identifying and managing risk by leveraging ServiceNow Governance, Risk, and Compliance.
ITBM
We help businesses fuel their long-term business growth with ServiceNow IT Business Management.
ITAM
Our expertise helps businesses track and manage their IT assets with ServiceNow IT Asset Management.
HRSD
Our experts help enterprises create one platform for all HR-related services using ServiceNow HR Service Delivery.
DevOps
Our experts enhance DevOps excellence throughout the organization by leveraging ServiceNow DevOps.
SecOps
We help enterprises bridge their security and IT divide to quickly identify and fix threats through ServiceNow Security Operations.
CSM
We assist businesses to improve customer engagement and service operations with ServiceNow Customer Service Management.
ServiceNow Consulting and Strategy
We offer end-to-end ServiceNow consulting services, laying the groundwork for a strategic ServiceNow implementation. Our experts can map your requirements to ServiceNow functionalities to analyze challenges and create the right ServiceNow implementation roadmap.
ServiceNow Custom App Development
Meet your specific business requirements with our custom ServiceNow app development services. Let our certified experts widen the capability of your ServiceNow platform to develop applications tailored to your business needs.
ServiceNow Workflow/Integrations
We assist businesses to integrate their existing systems and third-party tools into the ServiceNow platform. Our experts extend your platform capabilities through seamless integration and without any service disruption.
ServiceNow Managed Services
Maximize your ServiceNow potential with our end-to-end ServiceNow Managed Services. From advisory and implementations to monitoring and support, we assist you in reducing risk and dealing with all concerns on time.
Automated Test Framework
Reduce testing hours and accelerate implementations with our ServiceNow Automated Test Framework. Run automated instead of manual tests to ensure that your instance continues to function after a change is made.
ServiceNow Support & Maintenance
We provide comprehensive post-implementation support to ensure that ServiceNow solutions remain efficient and stable. We maintain dedicated resources and strictly adhere to our service standards to support any future challenges.